Golf is a sport that over the last few decades we've seen grow tremendously in popularity. The sport like many others provides an effective way to relieve stress while squeezing in some exercise into your routine. As with any sport, there is proper attire that is to be worn when playing it. Country clubs call for their members to meet a particular dress code when wanting to hit the green in order to maintain a certain level of class and authenticity. Melly M have been designing fashionable solutions for golf apparel for fifteen years. The company's founder, Melissa Madden, was prompted to launch Melly M after a sale representative was captivated by Melissa's self-designed raiment while walking through the streets of New York in 2002. We offer contemporary, preppy fashion styles that allow you to hit the green while looking fantastic. Our line of womens golf skorts and tops will have all your friends and associates at the social club admiring your look as soon as they spot you.
Melly M offers intensely impressive motifs that will motivate you to get that new putter out. We understand that sports attire needs to have a level of comfort that allows for mobility and functionality. That is why Melly M in consistently designing garments that will not only dazzle but allow for practicality. Through constant efforts of research and development Melly M has achieved the perfect balance of aesthetics and viability. Melly M's design takes all the factors of the sport and consumer taste into consideration such as:
Varying weather conditions

Differences in aesthetic preferences

Need for mobility & comfort

Tailored Sizing

Moisture Control
Our Sanibel womens golf skorts along with other products are made primarily of nylon combined with 8% spandex. Our choice in materials provides comfortable, quick drying material that also looks elegant. We understand the need for varying patterns that allow for fashionable expression and prevent the bore of wearing the same thing daily or even multiple times a week. Melly M offers a medley of classy womens golf skorts to select from including: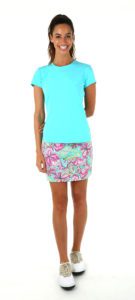 If you are looking to enjoy the golf course while looking exceptionally fashionable Melly M is the attire provider for you. Our products are put together domestically with the highest standards of quality assurance. Melly M is committed to helping you look your best while meeting dress standards of most country clubs for golfing. Appropriate raiment selection demonstrates reverence for the game, club, and the individuals you are playing with. Contact Melly M if you have any product questions or simply start shopping directly on our site today.
Womens Golf Skorts