Springtime may just be beginning, but summer is right around the corner! And that can only mean one thing- you have begun planning your summer vacations and day trips. Vacations hold a special place in our heart.  These times spent in exciting locals with friends and family often create our greatest memories.  But planning the perfect vacay can at times get complicated. Between booking flights, hotels, and excursions and coordinating travel time and meals, you have a lot of plates to juggle. The last thing you want to worry about is what you are going to bring along with you. That is why Melly M's collections of beautiful resort wear for women have the perfect pieces to fill your suitcase with.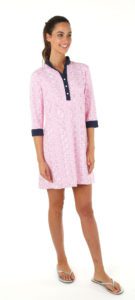 It all began with the creativity of our founder, Melissa, who would create beautiful pieces of clothing for her own everyday activities and travels. After she was stopped in New York by a sales representative who loved her clothes, Melissa turned her hobby into Melly M! Her passion for stylish and comfortable clothes is poured into everything we create. Now you can take the same style along with you no matter where you go!
Melly M's collections are great for year- around wear, but we really shine in summer! Our clothes are the perfect resort wear for women because they:
Are lightweight and comfortable
Come in a variety of styles
And make packing easy
Melissa was a busy girl-on-the-go in New York, so comfort was just as an important factor as style when she created Melly M. All of our pieces are lightweight so they are comfortable enough to where while lounging by the pool or hiking a new trail. However, lightweight does not mean that we ever sacrifice on quality. Your Melly M clothes will be beautiful and comfy for years to come!
One thing that sets us apart from the rest is our variety. We have nearly 20 beautiful prints to choose from (and we are always adding more!). You can shop by print, solids, or choose a specific category- dresses, tops, or bottoms– and browse.  We also have our Golf Collection. It's perfect for adhering to those strict course dress codes while also feeling stylish and comfortable enough to play your best game. Whether you need a skort for tee off, a fun top for brunch, comfortable pants for a shopping spree, or a gorgeous dress for your sunset dinner, Melly M has got you covered!
Melly M resort wear for women is also fantastic for packing smart! Our fun patterns are easy to mix and match with each other or with beloved pieces already in your closet.  By changing up how you pair your pieces, you can create a vacation wardrobe where no two outfits look the same without having to bring along your whole closet.
We are based in beautiful Delray Beach, Florida so we know vacation! Let our passion for gorgeous clothes make your summer trips even more stellar. With free standard shipping on all order over $100, why wait to order your Melly M resort wear for women? Find what speaks to you!
Resort Wear for Women